2019
Maison de la culture de Longueuil
"Suspension" Exhibition
Integrating different techniques and mediums, the pieces of Suspension prolong the reflection of the artist, explored in his cinematographic work (My father's studio, Impetus) on the themes of absence and the impact of loss. They depict suspended time, bringing together the words of pain and those of resilience, the works of Jennifer Alleyn presented here explore the force of inertia - the moment of apparent immobility, after a shock, where the wounds are closing and the next impetus is preparing itself.
2017
Musée d'art contemporain de Montréal
Parle-moi d'amour Exhibition – « Les Impatients »
Un instant dans l'existence (2016). Presented during the « Parle-moi d'amour » exhibition at Musée d'art contemporain de Montréal.
The image presents a deserted road, seen from a car. On the right, in the mirror, the road's opposite direction is visible. Therefore, both horizons can be seen at once : the road in front and behind. In the middle of the image and the road stands a coyote, fixing the camera in an almost human manner, as if reflecting on his fate. Which direction will he choose ? Will he go back from where he came from or will he move forward ? This question, emerging from inertia, calls for action. Despite his apparent calm, the animal is in danger. In the mirror, a truck is approaching.
2016
Galerie C – Neuchâtel, Switzerland

"Zones poreuses – Carte blanche à Guy Oberson" Exhibition – Jennifer Alleyn presents her installation La Mue (2016).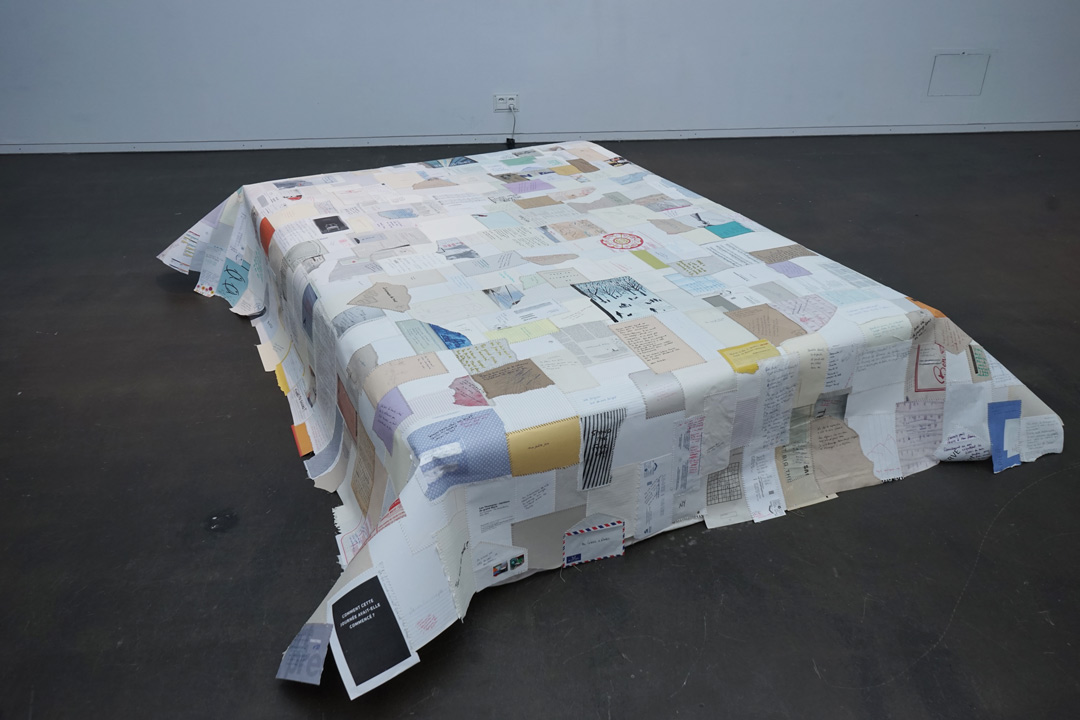 H : 16,5 ″ W : 61″ L : 82″
Techniques : sewing, construction.
Materials: paper, wood, vinyl, water, fabric, strings, motor, timer, sensor.
La Mue is an installation first displayed in Switzerland in the fall of 2016. It consists of a large paper quilt, placed on a mechanical bed. Pieces of paper on which appear the remains of a lost love are sewed together to form this mosaic of pain. Those stealthy words, often written in a hurry to tell, are scribbled on several supports: bill envelopes, old receipts, restaurant placemats; they represent the urge to express the grief that is felt daily. Like Little Poucet's pebbles, those individual pieces, gathered and degraded over time, are assembled in an attempt to close the wound. The stitches are made apparent by the string that pierces the fragments. Three months of sewing were required to achieve its confection. Under the paper patchwork is a water mattress, controlled by a silent motorized lever, and activated by a movement detector.
When the visitor approaches the bed to read the words written on the quilt, the invisible mechanism is triggered and lifts its entire surface, as if the bed suddenly began to breath. In this large piece of art are mingled words of pain and resilience.
2016
Galerie C – Neuchâtel, Switzerland

"Zones poreuses – Carte blanche à Guy Oberson" Exhibition – Jennifer Alleyn presents the video Respondere (2016).
RESPONDERE
Video, single channel, 6 min.
Edition : 3rd
The videotape Respondere (2016) carries the reflection on the struggle to name violent emotions. On a computer screen, a blank e-mail page is open. Then, letters typed on a keyboard appear, trying, through writing and erasing, to express love grief. Sometimes, a word is replaced by another, or the entire sentence is deleted and new wording starts from scratch. For 6 minutes, the tape presents the several attempts to answer a simple sentence: I miss you. Ultimately, the entire message is saved as a draft, left unsent, to be forever edited.
2011
Montreal Museum of Fine Arts, Canada
« Big Bang » Exhibition – Son plus cher désir, an installation by Jennifer Alleyn with the participation of Nancy Huston.
« Edmund Alleyn's inks are an invitation to a voyage. Ghost ships, furniture from a different era, reveal what mankind tries to ignore: it's transience. Debris and fragments of existence form a unique universe where humor and uncanniness interact. Along with those images, bits of memories, flakes of feelings spread in the night compose a profound melody. - Jennifer Alleyn
" The objects have entered entropy. They spin in the emptiness, drifting away from each other, like planets and constellations in outer space. It seems like Planet Earth itself was struck by a terrible attack… As if a very intelligent bomb exclusively destroyed mankind, this unwanted creature, this temporal being, this warm in the fruit – while the objects continue to float around, intact, carefree, almost cheerful. And the artist digs among that debris – glasses, deckchairs, frogs, paint rollers, pyramids, Freud or Proust portraits, fried eggs, suspenders, scissors, body parts, paintings – in search of, he says, "a few lost words". " – Nancy Huston
For more information on Big Bang Exhibition
1997
Rendez-vous du cinéma québécois
Face à Toi Exhibition
For more info on François Delisle's movie Toi
Jennifer Alleyn's photographies on the set of François Delisle's movie, Toi.
In 1997, the filmmaker François Delisle invites photographer Jennifer Alleyn on the set of his new movie, Toi. With her camera, Alleyn captures behind de scene moments, as well as the most intense scenes. She produces a series of photographies for the Face à toi exhibition. The pictures depict the director's solitude among the set's agitation. Actors Anne-Marie Cadieux, Laurent Lucas, and Marc Béland are featured in this project.